Please Note: This review was produced independently of Rocket Chinese but does contain affiliate links.
Rocket Chinese is a popular learn Chinese program, here are some reviews of Rocket Chinese and reasons why we like Rocket Chinese separated into several section so you can get an overview of Rocket Chinese. With this overview you'll be able to work out whether it's suitable for you as a method to learn Chinese.
Buying a textbook or subscribing to an online learning platform doesn't make you fluent in Chinese. You have to do the work, study the language, review often and keep on going when things get tough.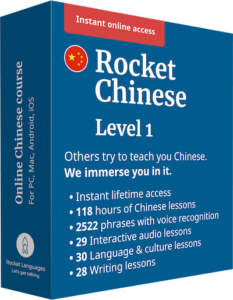 Top 5 reasons to choose Rocket Chinese
Learn to write Chinese with Rocket Chinese
How to learn to speak Mandarin with Rocket Chinese?
Does Rocket Chinese work for you?
We are always asked if there are discounts on Rocket Chinese. Currently we are not aware of discounts for Rocket Chinese but we will update, if we have any codes.