All Learn Chinese programs and podcasts:

---

---
Rocket Chinese – Review for Rocket Chinese here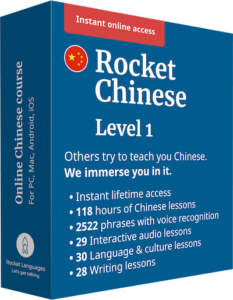 ---
These podcasts are aimed at learners of Mandarin Chinese to help you learn Mandarin in a fun and engaging way. You will find that they are usually separated into different levels, making it easy to find the ones that suit your individual language ability, from beginner to more advance levels. Many of these learning Chinese podcasts also include a variety of additional resources to improve your Chinese further, such as PDFs, word tests, vocabulary lists and more.
One of the key benefits with choosing to learn Chinese with a Chinese learning program such as this is the freedom it gives you to learn Chinese at a time convenient to you. You can learn at your own pace and in the comfort of your own home, allowing you to take as much time as you need to master such a difficult language. Some of the better learn Chinese programs even come with the additional option of having personal 1-to-1 Chinese lessons with a qualified Chinese teacher online. This lets you expand upon your online lessons and lets you ask questions about anything you're finding difficult to master or points you're unsure of.
What's great about these available Chinese programs is that most provide the option of free trial period. This gives you the opportunity to see what is offered on the program, often over the course of a week or month and decide whether this particular program is suited for you or not. If you're happy with the program, you can purchase one of the packages available and should you decide the program isn't suitable for you, you can simply choose another one to try out with no cost to you! You're free to sample multiple trial programs until you find the one that is the right fit for you.
The great variety of Chinese learning programs means that we have podcasts aimed at a range of different target audiences, including some aimed at younger learners. These different targeted programs make it easier to find one that is right for you, so you're not forced to put up with a program that is unsuitable to your demographic or language ability.
Many of the programs have been reviewed on our website to give you a better idea of what is included and how each lesson works. There is a difference in scale between the podcasts available, with some from companies that produce many different language podcasts (such as ChineseClass101 and Rocket Chinese) while others are from companies that only produce learn Chinese podcasts and focus on Chinese specifically.
You can also see the current learn Chinese discounts.
Podcasts for learning Cantonese can be found here.